The Bundling Theme so many have hoped for seems to be finally coming to fruition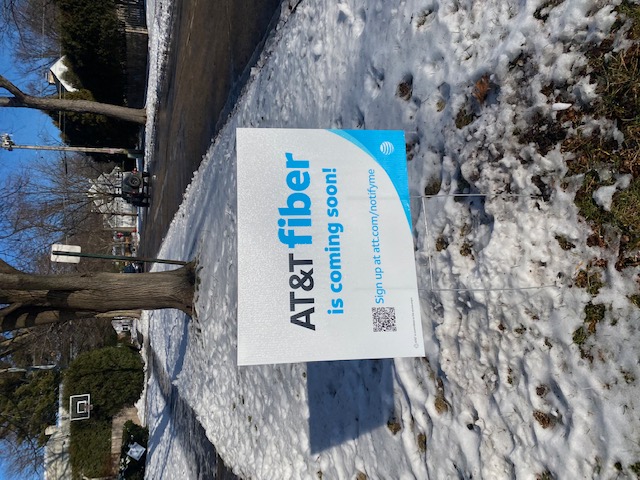 April 4, 2022 | A walk with my dog recently showed many of the pictured lawn signs in my neighborhood. Living less than 15 miles from Chicago (in a dense neighborhood) one has to wonder what took so long for Big Blue to see the need?.
There has been much "talk-about" that cable is under serious threat to more competition now that telecom players are (finally) awake to the need for more fiber and robust speeds.  But the question is can cable offset this risk through their robust, market share-gaining wireless effort.
In the past 5 years, Comcast and Charter (together) have built up a subscriber base of 7.6MM wireless subs.  To put this in perspective, US Cellular, the 4th largest stand-alone wireless carrier has 5 million total connections.  And the momentum is not slowing – both cable cos reported their best ever quarterly wireless sub gain in Q4'21 (the last reported quarter).
The key trend to watch is once telecos get to the point where broadband tailwinds (fiber broadband gains) offset the headwinds (DSL and non-fiber broadband losses), will their focus turn to following the cable companies' strategy – bundle wireless and wireline.
Given that all three teleco carriers – AT&T, T-Mobile and Verizon – already have national wireless networks, the necessary step to do this will be to focus on broadband.  And that they are – with slightly different nuances.  These ambitions were a large part of both AT&T and Verizon's recent analyst day events. 
AT&T's plan is to go far and deep with their fiber infrastructure in their 20+ state franchise footprint.  Jeff McElfresh, AT&T's Communications CEO, noted: "We are choosing fiber to fuel our vision of being the best broadband provider in America. We're investing in a scaled fiber network with a deliberate wireless strategy. By owning and operating both, we have stronger flexibility to be the leader that captures growth by providing high-quality broadband in more places for businesses and consumers growth…."
Verizon's ambitions are more far-reaching.  With both its fiber push and increased enthusiasm around fixed wireless access (FWA), Verizon's aim is to be a "complete nationwide" broadband carrier.  Kyle Malady, Verizon's President - Global Networks & Technology, was quite clear in this regard noting: "We have all the right tools in place to ignite our nationwide broadband path to growth, and as the number one B2B mobility provider, we have massive customer base to sell into, with the lower cost of acquisition and a much better experience than delivered by traditional broadband providers."
T-Mobile is also embracing FWA  but with a smaller focus, specifically aiming to achieve  ~ 7.5MM FWA subs by YE 2025 (up from 550,000 today).  Unlike Verizon, T-Mobile seems to be targeting more rural areas where true broadband is not available or DSL competition is still seen.
They say that history does not repeat itself but it often rhymes.  I am not sure we are there yet but it is ironic to note as an analyst, I remember writing in the early 2000s about the need for "wireless and wireline" bundling.  There were many failed attempts to do it in the past 20+ years but now we seem to be there….or at least inching closer.
There are pros and cons to both the  "cable camp" and "teleco camp" strategies.  But this data leaves me with 3 key questions:
1) Will cable embrace a fiber-deep architecture in areas where telecom fiber is advancing?
2) Does cable need to OWN the underlying asset for wireless (spectrum) in a bigger way?
3) Is FWA really ready for primetime?
All these questions are ones to watch and the answers should come sooner vs. later as there is much riding here for both these camps.>/p>
Stay tuned….tick toc goes the clock!
---
Copyright
©
2023 iGR. All Rights Reserved.