Lumen: The Union Pacific of Fiber 
June 21, 2023 | When I was an analyst one of my most memorable trips was to Monroe, LA.  Why?  Well, it was perhaps the ONLY domestic trip I ever took that did NOT offer a direct flight from O'Hare.  Still to this day 20 years later, that in and of itself makes this trip etched in my memory. The destination of that trip was a visit to the headquarters of CenturyTel.
When I first started following CenturyTel in 2004, the market cap was $3.8 billion (vs. $2 billion today) and it was just a small RLEC (Rural Local Exchange Carrier).  In the years that followed, I saw "CenturyTel" morph into "CenturyLink" and buy three other companies I followed (Embarq, Savvis and Level3).  In my final years as an analyst, I saw it morph once again to the "Lumen Technologies" it is today.
This new moniker has not been a boon to the stock price. In fact, since it changed its name (in September, 2020), the stock has declined 79%. Lumen's biggest challenge these past few years is easy to define: higher margin legacy revenues declined at a faster rate than the growth of lower margin "good" telecom revenues (i.e. SD-Wan, Security, Edge, etc).   It does not take a genius to realize this math does not work.   But the key to making the "good" revenue grow and expand is to provide (and invest in) the rails for it to run on.
For the past few years, Lumen has been fairly quiet as it redefines its strategy. But today Lumen is pulling back the black curtain and letting people in. On June 5th, the company hosted an analyst day under the direction of its new C-Suite. Kate Johnson – the new CEO – while having spent time at AT&T,  really comes from more of a tech background (most recently joining from Microsoft).  The focus of the investor day very much reflected views from this lens.  Lumen's new strategy is to offer Network as a Service (NaaS) and be a key player in the 'cloudification of network.'
Any good tech executive understands that a secret to any successful model is to have a (thick) moat around it. For Lumen, this 'moat' is not liquid formed but rather consists of hard core 'rails.'
If a picture is worth a 1000 words, the below picture is the one to use. As can be seen, the "rails" (aka fiber network) Lumen has are far reaching. But more importantly perhaps is the fact these rails are extremely dense.   Everything in GREEN on this picture represents network where the fiber strand count is 432 strands or more.  Strand count density will become a larger part of any future conversation involving edge applications, AI capabilities, and 5G, given it helps support greater capacity and lower latency. Simply put, these fiber "rails" which Lumen owns are a critical ingredient in supporting those customers enabling such services.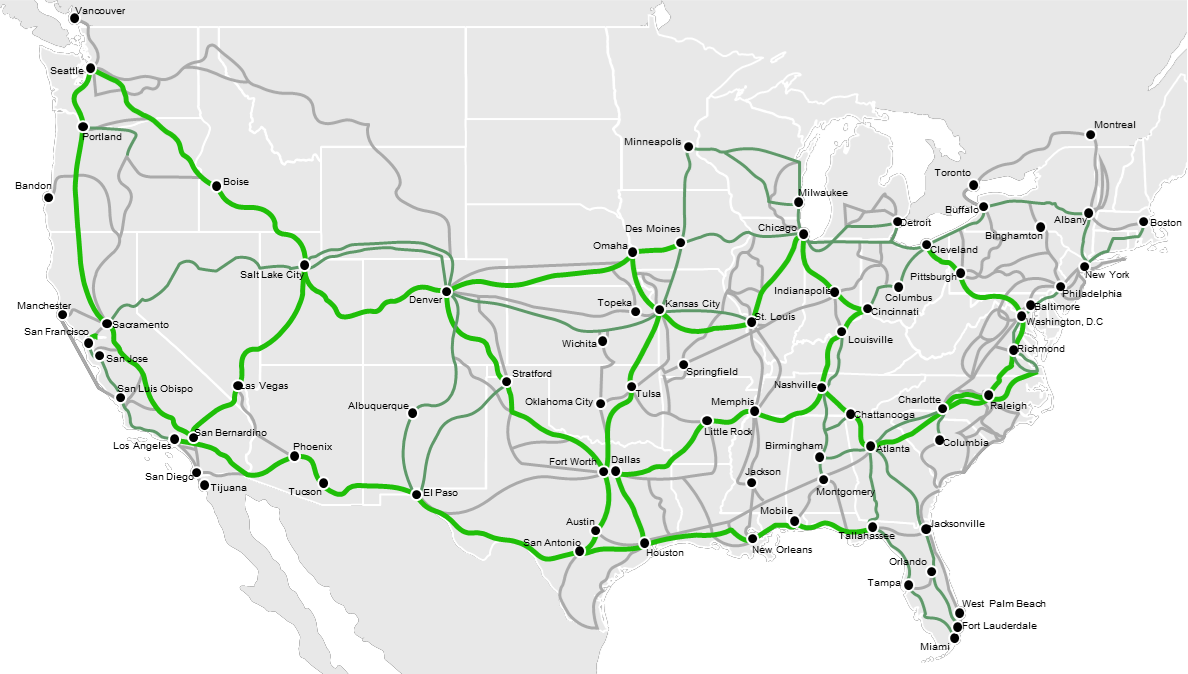 And this "railroad track" is very hard to replicate.  Based on Lumen's own estimates, the replacement cost of these "tracks" is $150B. While I tend to be skeptical of companies' own estimates of the value of their assets, this one may not be too far off.  Although the cost of the fiber itself is not overly expensive (as it is simply glass), the cost to trench (machinery and labor), permit, secure rights of way, etc. etc. is significantly higher than it used to be.  In fact, one senior contact I spoke to in the E&C space noted they have seen a 30 to 40 percent increase in the contractor cost to deploy fiber infrastructure.
Importantly, Lumen is not resting on the rails it has – it is leaning in to add more.  Specifically, current plans call for the company to add 12 million more fiber miles across its intercity fiber network.  It has already completed roughly 50 percent of this goal.  But, unlike fiber players in the late 1990s, it is NOT building these rails with a "build it and it will come" mentality.  Rather, there are tangible orders and cash flow behind this build.  The game is an offensive one, not just defense.  Evidence of this point was a quote by Lumen's CTO at its recent analyst day:
"….. we're not resting. ….We've got 60 percent more fiber from what we've installed available for additional cash flow generation. And we have received orders that justify the remaining six million fiber miles from that construction project. And we continue to take orders. So, that 12 million number will continue to grow over time…..And as technologies continue to evolve, things like Gen AI that require significant amount of data to be produced and consumed, our customers are going to need these higher capacity services, and our network is extremely well-positioned to serve those customers. And by choosing optical platforms that are upgradable, we're future-proofing this network to be able to support higher and higher speeds over time".
Like any good game plan, the plan only works if the players on the field execute it correctly. While this company (in some shape or form) has been in existence since 1930, history may show that that analyst day on June 5, 2023 represents the "new Lumen starting line."
---
Copyright
©
2023 iGR. All Rights Reserved.